On Saturday, 15th of May 2010, the First Reunion of Karlsruhe Geophysicists took place on the premises of the Karlsruhe Institute of Technology (KIT). About 100 alumni from all around the world followed the invitation of the organisation team, some spared no effort and had even travelled from southeast Asia to Karlsruhe.
After visiting the Geophysical Institute (GPI) at the Westhochschule on Saturday morning, the alumni enjoyed a champagne reception (kindly sponsored by "KIT Alumni") and a lunch at the Gastdozentenhaus where some alumni met each other again for he first time in many years or even decades. Therefore, in his welcome address Prof. Friedemann Wenzel explicitly mentioned the alumni spirit which shows itself in particular in small study courses like geophysics where employees and students experience strong company across all age brackets.
In the afternoon a joint event had been arranged with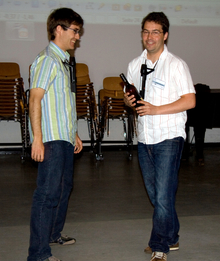 students from the Geophysical Activity Program (GAP) - the GAP is an international meeting of students of geophysics and geosciences which takes place every year at a different university. It returned to its founding place in Karlsruhe in 2010 for its 25th anniversary. Both students and alumni greatly appreciated an interesting series of lectures and presentations in the afternoon which were mainly organised by participants of the reunion themselves. The final joint alumni and GAP party in the evening made it a perfect day! Many interesting discussions came up during the get-together and all alumni remembered the great time they had at the GPI which is also reflected in the entries of the alumni meeting guest book. Many alumni, in particular those who could not join due to work-related commitments or other reasons, already look forward to the next reunion which will probably take place in 2014 when the Geophysical Institute of the KIT celebrates its 50th anniversary.
At this point we would like to thank again all helping hands and participants of the first GPI reunion ever - without them such a great event would not have been possible!
There are two reports about the First Reunion of Karlsruhe Geophysicists available (only in German):
Vollständiger Bericht auf KIT-Alumni
"85, 98 und jetzt 2010... 25 Jahre GAP und ein Alumni-Treffen" - Bericht in den DGG-Mitteilungen 2/2010, Seite 62 folgende